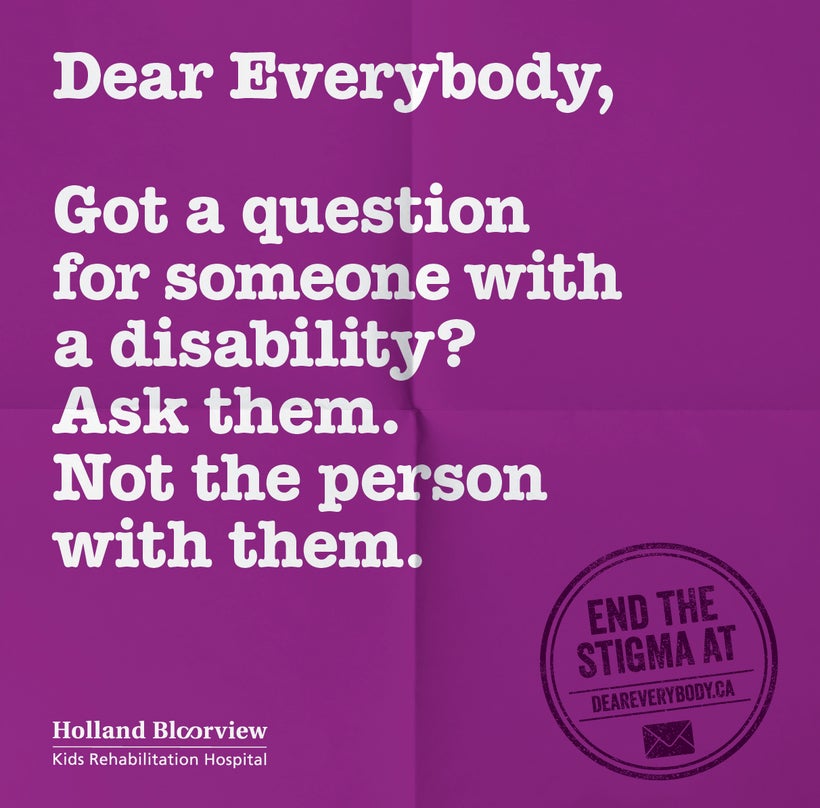 Imagine your wonderful child coming home every day from school and telling you she ate lunch alone because no one would sit with her. Why? Because she uses a wheelchair.
Imagine facing stares and whispering when going to the grocery store with your child or the clerk that doesn't even try to understand your child's speech and instead ignores them and talks to you.
For kids and youth with disabilities and their families, these are every day realities. Kids with disabilities want to be loved, appreciated, move, laugh, learn and play just like all kids do. But too often they're hindered…not, as you might think, by their disability but by the actions, attitudes and beliefs of others, including their teachers, classmates, neighbours, even by their communities.
As a result, kids and youth with disabilities face far too many frustrating, heartbreaking and spirit-killing barriers – barriers caused by stigma.
They routinely face stares, whispers, name-calling, social exclusion, bullying and outright prejudice and discrimination.
It's time to end the cycle of disability stigma and break down barriers and bias that hold kids and youth with disabilities back.
The urgency to shift thinking and attitudes becomes clear when you look at some alarming stats around disability:
53 per cent of kids with a disability have zero or only one close friend.
Kids with disabilities are two to three times more likely to be bullied.
25 per cent of kids with disabilities under 15 in Canada have unmet educational needs.
And the implications for the adults these kids will become are stark as well:
Only 49 per cent of Canadians with disabilities aged 25 to 64 are employed compared to 79 per cent for Canadians without a disability.
One-third of people with disabilities say they have been denied a job because of their disability.
Only 59% of Canadian youth with disabilities aged 18-21 attend post-secondary education compared to 72% of youth without a disability.
And we're not talking about a small group. In Canada, there are 400,000 children and youth with disabilities. That's the population of Halifax.
But go beyond stats and understand the pain, frustration and humiliation stigma causes.
Getting around in a wheelchair isn't easy, but eating lunch alone at school every day really stings.
Putting on a prosthetic limb can be cumbersome, but hearing whispers or blatant name calling in the hallways or on the playground can be agony.
So too can never being invited to any birthday parties. Or not getting what you need to do your schoolwork, or being passed over for jobs that you know you could do with a few simple and inexpensive accommodations.
The time is now to make a change. We can't do that unless we face up to our own bias, learn more and break the silence. Being anxious about offending or upsetting is not a good excuse to do nothing.
To get the conversation started, Holland Bloorview has launched a national public awareness movement called 'Dear Everybody' that's focused on challenging and breaking down disability stigma and stereotypes.
Driving this movement are the words of kids and youth with disabilities, sharing their stories, their experiences and what they need the public to know to tackle the myths and misconceptions that exist about living with a disability.
Who better to raise issues people are too afraid to ask and put that information into the world, than those who experience the stigma every day?
Their messages are short and direct, such as:
"If someone's voice is hard for you to understand, talk to them more. You will get better at it."
"Not everyone in a wheelchair needs to be fixed."
"If you're inspired by someone with a disability, make sure they did something inspiring."
For the kids having their experiences heard is empowering. For the public it's enlightening.
To keep the conversations going, DearEverybody.ca is a terrific source of information and resources, including stories of lived experiences, recommendations for teachers, employers, health-care providers and others that can be shared, start conversations and break down stigma.
DearEverybody.ca covers major issues such as employment, bullying, friendship, education and health care.
It also provides tools to educate the public about the role they play in building an inclusive and equitable society that includes young people with disabilities.
Health care professionals, government departments and other groups can research, discuss and analyze stigma, but it's the kids who are experiencing it each day who can deliver the most powerful message for bringing about change.
There is no time to wait for a world that fully embraces disability as a valued form of diversity. Every one of us needs to be a catalyst for change, and the place to start is by amplifying the words of kids and youth with disabilities themselves.
Go to DearEverybody.ca. Share the letter broadly. Do something today that makes your piece of the world more inclusive. Tell someone about the resources online. We call this "Dear Everybody" because everybody needs to act. And that means you.
_____
Julia
@Hanigsberg